The Stack Archive
Cute Japanese EV wants to transform mobility in big cities
Tue 31 May 2016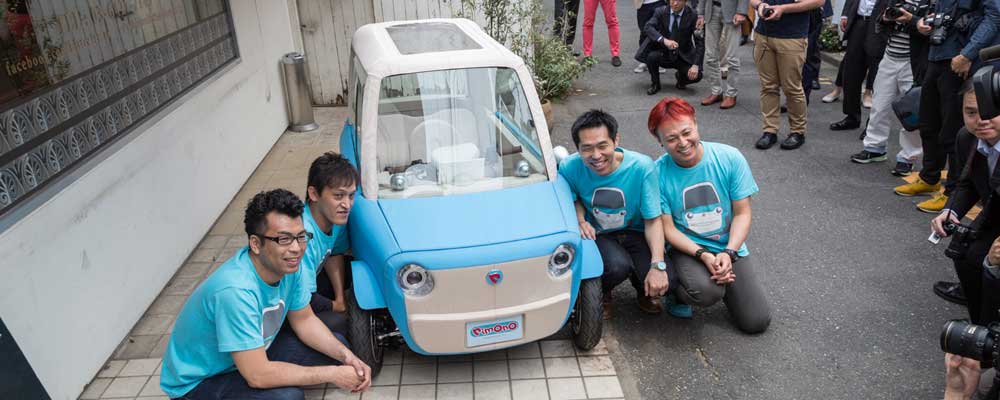 Japanese automobile startup Rimono has this week presented a new city-going electric car of the same name, to rival other urban microcars and innovative transit projects vying to resolve today's inner-city mobility problems.
The vehicle is a friendly little character created by Kota Nezu, also behind the recent wooden Toyota Setsuna prototype. Rimono [Japanese], which measures just 2.2 metres long, is similarly built from conventional materials, with a cushioned body made from a waterproof cotton/polyester material.
According to Rimono CEO and former official at the Japanese Ministry of Economy, Trade and Industry, Shinsuke Ito [Japanese], the fabric can be tailored, allowing owners to customise the surface of their car with different designs.
The car has a small 6.8-horsepower electric motor powered by a 4 kWh lithium-ion battery pack, and has a top speed of 28 mph. It is able to reach 31 miles on a single charge.
Rimono's minimalist interior feels more like a scooter than a car, with handlebars in place of a steering wheel to control the vehicle's lights, indicators, horn, and speedometer. There is no sound system, but there are two portable speakers which users can connect to their tablet or smartphone. The car seats up to three riders; one in the front and two children, or one adult, in the back. The driver's seat can spin to facilitate entering and exiting the vehicle.
While microcars are not allowed on public roads in Japan, the company has entered discussions with the government to devise a framework whereby Rimono will be able to cruise through the country's urban centres.
Rimono hopes to have the EV ready for production by summer 2017 and expects to attach a price tag of 1 million yen (approx. £6,150), non-inclusive of potential green subsidies from the government.
A further urban EV project under way in Asia is being led by Singaporean transport operator SMRT which announced an electrically-powered transit network earlier this year. The magnet-based pods, which it hopes to roll out by the end of 2016, can carry up to 24 passengers and can reach a top speed of 25 mph.
Tags:
Asia
cars
green
Japan
news
transport
---