The Stack Archive
HoloLens for developers available for pre-order
Mon 29 Feb 2016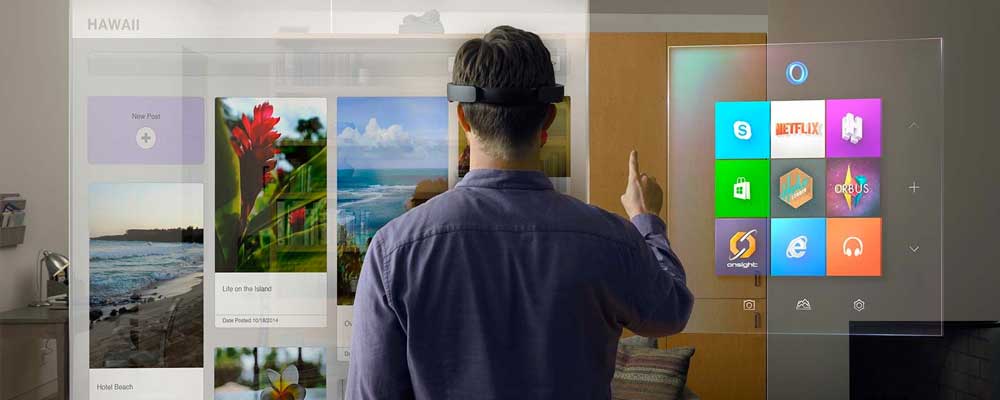 Microsoft's HoloLens, touted as the world's 'first and only fully untethered holographic computer' is available today for pre-order and will ship on March 30. The HoloLens Development Edition is available for purchase to qualified developer applicants and will cost $3,000.
While the augmented-reality headset is still far from a commercial release to consumers, Microsoft will release six applications that run on the holographic platform – a mix of development tools, games, and user programs. HoloStudio is a development program that allows 3D interaction in a true-to-life scale. It is intended for use by developers to create holograms for their own applications, while teaching users how to manage 'the HoloLens interaction model of gaze, gesture and voice.' HoloTour allows a 3D experience in a real-world location, such as Machu Picchu. A holographic storytelling medium, Actiongram, uses Mixed-Reality Capture (MRC) to blend holographic content into real-life settings. Holographic Skype will also be available, along with games including a crime drama called Fragments, a mixed-reality game called Young Conker, and a first-person shooter called RoboRaid.
Starting today, developers can access documentation, guides and tutorials for HoloLens. Additional development tools will be made available when the first HoloLens ship on March 30, including Visual Studio projects and a HoloLens emulator, which will allow testing of holographic apps on a PC without a physical HoloLens.
Last week, Microsoft released the first pictures of astronauts on the International Space Station using HoloLens as a part of NASA's integrated Sidekick project. The astronauts use Skype to transmit views to a ground operator, who can then provide expert, real-time guidance to coach the astronaut through repair or experimental tasks. Using HoloLens, the astronauts still use Skype, but the remote expert has a 3D view of the task at hand, allowing for a more comprehensive communication from the space station to the ground crew. HoloLens can also be used in what is called 'Procedure Mode', which provides animated holographic illustrations which can help lessen the amount of time required to train future crews, and assist in deep-space communications by helping to circumvent communication delays.
Microsoft has also partnered with academic institutions, awarding Academic Research Grant Awards of $100,000 plus two Microsoft HoloLens Development Edition Devices to five institutions, and the devices without the cash award to five runners-up. They are working with organizations as varied as Volvo – to reimagine the car buying experience – to the NFL – reimagining the future of football.
Tags:
3D
Augmented Reality
developers
device
holograph
Microsoft
---