News Hub
Vantage Data Centers to build five hyperscale facilities in Europe
Written by James Orme Tue 11 Feb 2020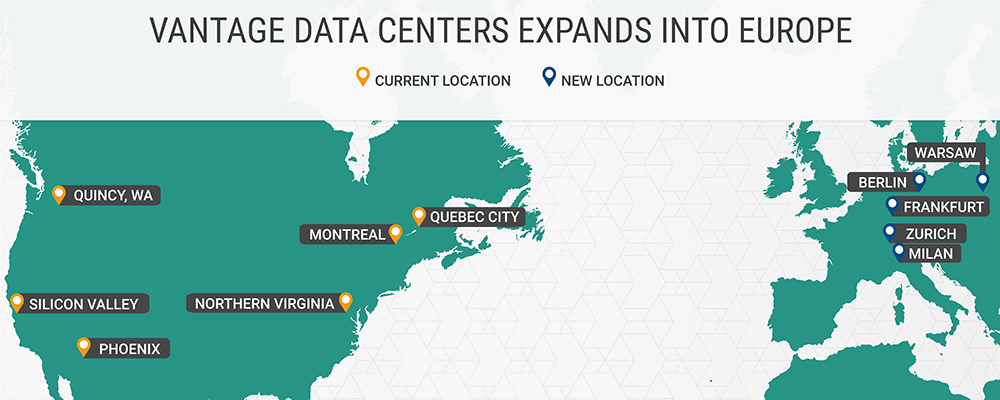 Company lines up $2bn infrastructure investment following Etix Everywhere purchase
North American wholesale data centre provider Vantage Data Centers is launching itself into Europe with the acquisition of Etix Everywhere and $800 million in new funding.
Luxembourg-based Etix owns a sizable European data centre portfolio including a 55MW hyperscale campus currently under development in Germany. The two companies have not disclosed the financial terms of the deal.
The Etix purchase represents a small part of Vantage Data Centers' ambitions in the European market. The company intends to invest an eye-watering $2 billion (£1.55bn) constructing five hyperscale facilities across the region, backed by $800 million in equity provided by investors and a new commitment from Digital Colony Partners.
"As data center demand from our customer base continues to rapidly increase worldwide, Vantage is embarking upon its largest expansion ever into Europe through the development of five strategic markets," said Sureel Choksi, president and CEO of Vantage, in a statement.
Vantage Data Centers has secured rights to build hyperscale campuses in Berlin, Milan, Warsaw and Zurich. The five planned facilities include a 64MW campus in Berlin; 55MW campus in Frankfurt; 32MW campus in Milan; 64MW campus in Warsaw; and a 40MW campus in Zurich.
Once all of the company's planned facilities are constructed, Vantage Data Centers will operate hyperscale campuses in 11 markets, including in Montreal; Northern Virginia; Quebec City; Phoenix; Silicon Valley; and Quincy, Washington.
Vantage Data Centers has been designing, constructing and operating data centres for the likes of Amazon, Digital Realty, Equinix and Cisco for decades. According to Synergy Research Group, hyperscale operator capex in Q3 2019 topped the $31 billion mark, up 8 percent compared with Q3 last year.
Written by James Orme Tue 11 Feb 2020
Tags:
hyperscale
investment
M&A
---
---