Features Hub
Opinion
The EN 50600: How to meet the European standard for data centres
Fri 10 Sep 2021 | Nicole Cappella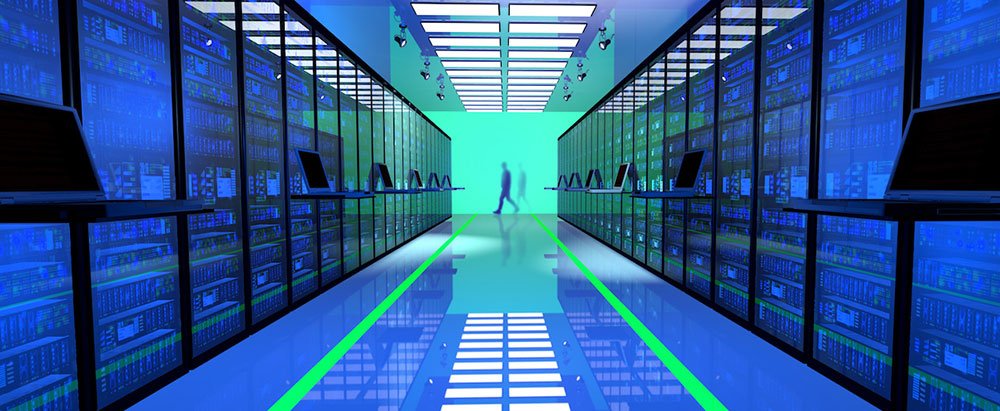 EN 50600 is the European standard for data centre infrastructure, covering aspects of design, power, cooling systems, security, and sustainability. While there are some accepted international standards for data centre operations – for example, Power Usage Effectiveness (PUE) – there are few other measures of data centre performance that are globally accepted.
Because it covers so many different aspects of data centre operations, EN 50600 is one of the most comprehensive sets of standards available; and because it is an international standard, it is intended to clarify the different, often conflicting regional and national standards set by other organizations.
One important consideration for data centre owner-operators looking to meet this standard is that its comprehensive nature is balanced with its flexibility. While standards are included, they are not specified at the granular level – so each data centre facility has the opportunity to make unique decisions based on individual business requirements.
This flexibility and adaptability have helped to generate support for EN 50600 across the industry. And while EN 50600 is currently a European standard, it is expected to be the basis for the new international standard ISO/IEC 22237 – making it of interest to data centre owner-operators in Europe as well as internationally.
Read more: Explaining the new family of ISO data centre standards
How is EN 50600 structured?
The EN 50600 standard is structured in four sections – each of which is divided into a series of documents within the larger grouping. These sections are:
EN 50600-1: Overview
EN 50600-2: Design
EN 50600-3: Operations & Management
EN 50600-4: Key Performance Indicators
A final section, referred to as CLC-TR 50600-99, is a subcategory devoted to technical reports. Meeting any international standard, particularly one that covers as many different areas as EN 50600, is a tall order. But ensuring that a facility meets these standards is one of the key ways that a company can future-proof its operations, ensuring that it meets important performance indicators including using energy efficiently, protecting the environment, protecting the security of the data, and ensuring that ongoing management and operations continue to drive progress toward stringent standards.
How to meet the EN 50600 standard: energy and environment
Key factors of the EN 50600 standard include energy management and environmental viability. The European standardization development group, CENELEC, noted that the development of the digital economy is increasing demand for data centre services – taxing the infrastructure of urban and business centres across the EU. To manage this demand and meet business and individual requirements, specific standards related to energy and the environment have been established.
Flexibility has been built into the published standards, allowing data centre owner-operators to design their own strategy to meet these requirements. To meet the standard, a data centre should look to:
Reducing the total energy consumption of the data centre
Increase task efficiency or effectiveness
Increase use of renewable energy sources
Re-use waste heat from the facility
Infrastructure availability levels
 Depending on the design of the data centre operations, it will be assigned an 'availability class' across three different categories: power supply, environmental control, and telecommunications cabling.
Physical security requirements
In a similar vein, a facility's physical security is assessed across four availability classes. These measure the degree of security the data centre offers according to how well they prevent unauthorized access, and protect against fire, internal and external events.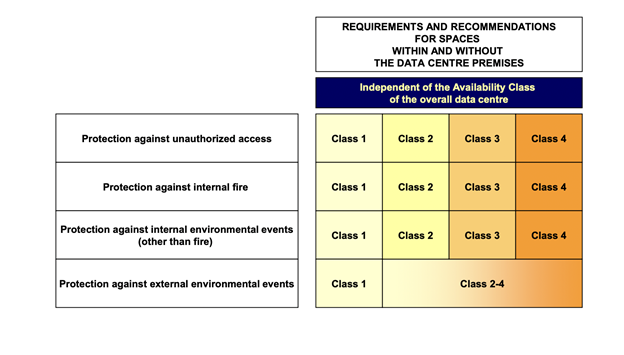 Management and operation classifications
Infrastructure and security standards may be addressed in the initial design of a data centre, or in re-engineering and retro-fitting of existing facilities. There is an additional set of standards, however, that seek to improve how a data centre operates on an ongoing basis.
KPIs that data centre owner-operators should benchmark and monitor include power usage effectiveness (PUE), water usage effectiveness (WUE), renewable energy factor (REF), cooling effectiveness ratio (CER), and carbon usage effectiveness (CUE).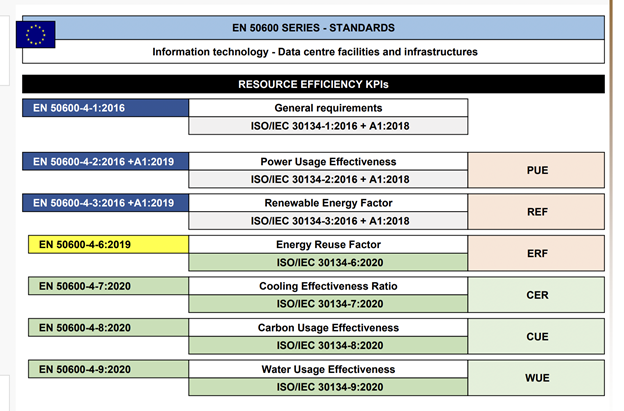 There are a variety of organizations out there that offer certification across the various EN 50600 standards. However, the best way to ensure that a data centre meets EN 50600 standards is to assess, evaluate, monitor and manage operations with different aspects of the standard in mind.
The EN 50600 standard covers so many different areas across infrastructure, security, and ongoing operations that it can seem like an enormous challenge for data centre owner-operators. However, chances are that your data centre already measures its performance and improvement strategies across many of these components. Understanding the EN 50600 standards, and considering them in ongoing operational strategies, provides a data centre with the correct framework for future-proofing the data centre.
Hungry for more tech news?
Sign for your weekly tech briefings to be in with the chance to win a £50 gift card!
Written by Nicole Cappella Fri 10 Sep 2021
---
---